A truly visionary figure within the recording industry,
Joe Meek
helped shape the sound of pop music in the '60s and for decades to come. A short list of the techniques he pioneered explains why he's considered one of the most influential engineers ever to work in a studio. Overdubbing, spring reverb, compression, sound separation, and close miking all became industry standards, while his experiments with tape loops, sampling, and handcrafted electronics paved the way for later generations of hip-hop and electronic music artists.
Meek
was among the first to use the studio as an instrument, an approach he developed on his 1960 album
I Hear a New World: An Outer Space Fantasy. Though it wasn't released in its entirety during his lifetime, it anticipated the concept albums that became popular later in the decade and featured some of his most inventive electronic devices and production tricks. He popularized these innovations on the singles he recorded with other artists, chief among them
the Tornados' otherworldly 1962 hit "Telstar." The first single by a British rock group to top the U.S. charts, it defined
Meek's signature sound: half driving and dirty, half eerie and futuristic. When his chart hits began to wane in the mid-'60s, the hard-hitting sounds he captured with freakbeat acts like
the Syndicats
presaged punk and grunge. The ways in which
Meek
was different also led to difficulties. His status as a gay man when sexual acts between men were still illegal in the U.K., his untreated mental illnesses, and his legal and financial troubles contributed to his turbulent state of mind when he killed himself and his landlady in 1967. Despite his troubles,
Meek's many achievements as a songwriter, producer, and engineer make for an influential -- and fascinating -- legacy.
Born Robert George Meek on April 5, 1929, Joe Meek grew up in a family of farmers in Newent, Gloucestershire. Early on, he distinguished himself from his brothers; instead of playing outside, he preferred to stay in the house. Along with cooking and cleaning, he spent as much time as he could learning about and experimenting with electronics, and soon taught himself to build circuits and radios. These skills came in handy when he joined the Royal Air Force at age 18 and became a radar technician, a trade that only heightened his fascination with technology and outer space. During the early '50s, his passions grew to include music production. While working for the Midlands Electricity Board, he obtained a disc cutter and produced his first record.
To pursue his dream of becoming a producer, he moved to London and worked as an assistant engineer for a radio production company and for studios such as IBC and Lansdowne. One of the first recordings to bear his unmistakable production techniques was 1956's "Bad Penny Blues" by Humphrey Lyttelton. Much to the jazz trumpeter's chagrin, Meek compressed the song's pianos and drums; despite Lyttleton's concerns, it became his lone top 10 pop hit. On another 1956 single, Anne Shelton's "Lay Down Your Arms," Meek mimicked the sound of marching with a rhythmically shaken box of gravel -- one of the earliest examples of his simple yet surprisingly effective sound effects. These creative impulses didn't mesh well with the demands of industry-standard studios, and he soon departed for an independent career as an engineer. During this time, he worked on numerous jazz and calypso records as well as a few Top 20 hits. These included Gary Miller's "The Garden of Eden" and "The Story of My Life" (from 1957 and 1958, respectively), and Emile Ford & the Checkmates' "What Do You Want to Make Those Eyes at Me For?" and David MacBeth's "Mr. Blue" (both from October 1959).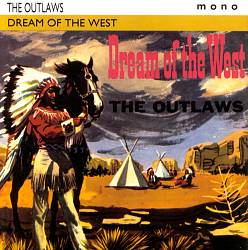 Throughout 1959,
 Meek 
worked on his own pet project:
I Hear a New World: An Outer Space Music Fantasy, a vision of a trip to the moon that let his creativity run wild. For its mix of experimental sounds and lively pop, he recruited
Rod Freeman & The Blue Men
-- aka the skiffle group
Rod Freeman
and
the West Five
-- and used techniques that ranged from stereophonic sound to draining water out of a sink. Created at Lansdowne as well as
Meek's home studio, the album was intended as a test recording for stereo equipment stores. However, only an EP's worth of music from it was officially released on
 his
 own Triumph label in March 1960, and only 99 copies were circulated. Though the full-length
I Hear a New World: An Outer Space Music Fantasy
remained unheard for over three decades, several of its songs were repurposed and renamed for
the Outlaws' 1961 album
Dream of the West.
Triumph Records, the label he created with producer William Barrington-Coupe and financial backer Major Wilfred Alonzo Banks, lasted less than a year, but produced three hits before it folded. The singer/actor Michael Cox's "Angela Jones" peaked at number eight; the Flee Rekkers' "Green Jeans" (a rock & roll version of the traditional song "Greensleeves") reached number 23; and "Heart of a Teenage Girl," which was credited to the American actor George Chakiris, hit number 49. Meek left Triumph in June 1960 and the label collapsed soon afterward, with several planned releases appearing on imprints such as Pye and Top Rank instead.
After leaving Triumph, Meek concentrated on his production company RGM Sound Ltd. and his innovations at 304 Holloway Road, a three-floor flat above a leather goods store that combined his apartment and recording studio. It was here that he developed groundbreaking techniques such as overdubbing, recording instruments individually, and closely miking instruments, all of which became standard practice for the recording industry in due time. In addition, his more outlandish experiments with compression, echo and reverb, and unusual sound sources helped him achieve his one-of-a-kind style. He scored the first hit recorded in his new studio with John Leyton's "Johnny Remember Me." A teenage tragedy song in the vein of "Teen Angel," it reflected Meek's interest in the occult. Its spooky production added just the right flourish to its tale of a teenage boy communicating with his dead lover, and the single topped the U.K. Singles Chart in August 1961. Leyton and Meek had another Top 10 hit with that October's "Wild Wind"; that month, Mike Berry and the Outlaws' "Tribute to Buddy Holly," which sang the praises of Meek's favorite artist, reached number 24.
Early in 1962, Meek and Leyton had moderate hits with the singles "Son This Is She" and "Lonely City," but the producer achieved his biggest success with that September's "Telstar." Recorded by the Tornados, this love letter to the space age showcased Meek's flair for audacious productions and arrangements with its soaring Clavioline melody and its rumbling blast-off sound effects (which, allegedly, came from a backward recording of a flushing toilet). Not only did "Telstar" top the U.K. Singles Chart, it became the first British song to top the Billboard Hot 100 in the U.S. It sold five million copies in its first year of release, and Meek received the 1962 Ivor Novello Award for the year's Best-Selling A-Side. However, the French composer Jean Ledrut claimed the song's melody came from his own work "La Marche d'Austerlitz" and sued Meek for plagiarism. Because of the lawsuit, Meek never saw any "Telstar" royalties while he was alive (the suit was resolved in his favor in 1967, three weeks after his death).
In 1963, Meek's chart success continued with Mike Berry's Top 10 hit "Don't You Think It's Time" and three more singles with the Tornados that capitalized on "Telstar"'s popularity: "Globetrotter" reached number five on the U.K. Singles Chart that January, while "Robot" and "The Ice Cream Man" were Top 20 hits. His other significant recordings that year included the number five hit "Just Like Eddie," a rollicking tribute to Eddie Cochrane by his protégé Heinz, and Screaming Lord Sutch & the Savages' "Jack the Ripper." That November, Meek was convicted of and fined for soliciting gay sex in a public restroom, a scandal that became front-page news and left him open to blackmail.
His personal problems coincided with the rise of the Beatles and other groups whose music made his signature style seem dated. Nevertheless, he adapted, working with a wider range of artists that resulted in some of the finest recordings of his career. Chief among them was "Have I the Right?," the relentless debut single by the Honeycombs. Driven by a thunderous beat laid down by drummer Honey Lantree -- and bolstered by her bandmates' stomping feet -- the song was released by Pye Records in June 1964 and hit number one in the U.K., Canada, Australia, and Sweden that August, making it his final chart-topping production. That year, he also produced the Blue Rondos' gritty "Baby I Go for You" and reunited with Screaming Lord Sutch & the Savages for "Dracula's Daughter."
At the beginning of 1965, the producer rechristened RGM Sound Ltd as Meeksville Sound and continued to branch out musically. Along with "Diggin' My Potatoes," a Heinz single that made it to 49 on the U.K. Singles Chart that March, his productions included the smooth, Dusty Springfield-esque "Something I've Got to Tell You" by Glenda Collins. His  forays into freakbeat and R&B were particularly potent, and included David John & the Mood's "Bring It to Jerome" and the Syndicats' cult classic "Crawdaddy Simone." He also profited from Tom Jones' big hit "It's Not Unusual" when he sold recordings he made with the big-voiced Welsh singer back in 1963 to U.S. and U.K. labels.
In April 1966, he earned his final hit with the Cryin' Shames' "Please Stay," which featured highly emotional vocals that he reportedly coaxed out of the band's lead singer by bullying him to the point of tears. The song caught the ear of the Beatles' manager, Brian Epstein, who invited Meek to watch Bob Dylan's Royal Albert Hall concert with him that June. Not long after, EMI chairman Sir Joseph Lockwood offered the producer a job at the label. However, he became increasingly unstable as 1966 unfolded. His growing financial difficulties -- caused in part by his withheld "Telstar" royalties -- fed into his struggles with schizophrenia, bipolar disorder, and substance abuse. The recordings he made this year reflected this turmoil, whether in the howling proto-punk of the Buzz's "You're Holding Me Down" or the Tornados' "Do You Come Here Often?" The B-side to the relatively tame August 1966 single "Is That a Ship I Hear?," its depiction of a frank conversation between two gay men in the toilet of a London club made it one of the most overtly queer recordings of its time.
The last single Meek produced, Riot Squad's "Gotta Be a First Time," was released in January 1967. That month, his paranoia reached a peak when he feared he would be questioned by police about a grisly crime known as "the Suitcase Murder" because of his sexual orientation. On February 3, 1967 -- the 18th anniversary of Buddy Holly's death -- Meek shot his landlady, Violet Shenton, and then himself with a single-barreled shotgun. He was 37. Following his death, many of the bands and artists Meek mentored split up or ended their musical careers. His unreleased recordings, which numbered in the thousands, were purchased and preserved by Cliff Cooper, bassist of the Meek-affiliated band the Millionaires and the future founder of Orange Sound. Named "the Tea Chest Tapes" for how they were stored when they were removed from Meek's home, they were documented in the mid-80s by former Joe Meek Appreciation Society president Alan Blackburn.
Mississippi
As time passed, interest in
Meek
and his music grew. The 1977 compilation
The Joe Meek Story
-- which was compiled by members of the Joe Meek Appreciation Society -- helped keep the producer's unmistakable sound alive. The BBC documentary The Very Strange Story Of... The Legendary Joe Meek appeared in 1991, the same year that RPM Records issued a restored version of
I Hear a New World: An Outer Space Music Fantasy. The first time the album was available in its entirety, it was hailed as a classic of early electronic music. In 1993, the Joemeek line of audio processing equipment made its debut and paid tribute to its namesake's legacy of pioneering studio techniques. Along with
John Repsch's 2001 biography The Legendary Joe Meek: The Telstar Man,
Meek's story inspired the 1994 BBC 4 radio play Lonely Joe and the 2005 stage play Telstar, which was adapted into the 2008 film Telstar: The Joe Meek Story. The following year, the Music Producers Guild introduced the Joe Meek Award for Innovation in Production as another homage to his experimental approach, and in 2014, NME Magazine named him the greatest producer of all time. Accolades like these, as well as a steady stream of reissues and compilations of his music, secured
Meek's place in music history well into the 21st century.